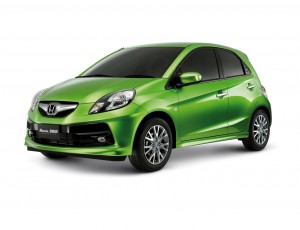 At the Thailand International Motor Expo 2010 which takes place on Decembere 1-12, Honda has introduced the minicar  Brio, small A-segment car anticipated by prototype "New Small Concept" at the beginning of the Exhibition in New Delhi this year. The small Honda Brio was born for Asian markets and is expected to debut on Thai and Indian markets in 2011. We do not know any marketing opportunities for Europe, but if the new Nissan Micra is also available in old continent, the same could be done with Honda Brio, the car would come into competition with Toyota Aygo, Citroen C1 and Peugeot 107. The price should reach the equivalent of € 10,000.
SMALL BUT SPICE: The Brio has a vaguely aggressive side highlighted, its nature is clearly designed to meet the mobility needs of urban geographic area where demand for cars is growing, that's why it is 360 cm long ( 30 cm less than model Jazz), large 168 cm and 148 cm high.

FUEL EFFICIENCY: The Japanese manufacturer has not yet announced which engines will equip the Brio, anticipating that will only have a fuel consumption of 5 litres/100 km, which should ensure the ecological car status according to Thai law. The engine, however, should be a petrol 1.0L or 1.2L  four-cylinder.
[youtube]
Similar News: