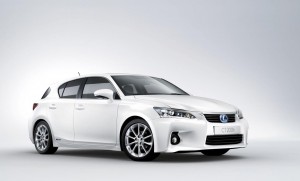 After the last presentation at the Paris show, the Lexus Ct 200h will come in the spring of 2011, the car will be in pre-book in Europe since October. Meanwhile, development continue for the hybrid Japanese premium C-segment, to conquest the European public and to compete with other successful models like the BMW 1-Series and Audi A3 and probably the Alfa Romeo Giulietta.
Design: Compact Ct 200h shows a remarkable stage presence, because of the imposing front, the length of 4.30 meters, a wheelbase of 2.6 meters, a trunk of 345 liters accessible through the large tailgate, aesthetic lines marked, the wraparound rear window and protruding lines on the body of this luxury hybrid. The car was designed to meet the choices of customers in Europe, will be a vehicle with a sporty 5-door, despite the front-wheel drive (a first for Lexus). The cockpit is a bit enclosed but spacious, the tail is cut and you need to get used. The 17 " wheels accentuates the sporty.
Hybrid power: the hybrid system is the same as the Toyota Prius, the gasoline 1.8 VVT-i  combined with an electric motor, 136 hp total. Drive mode will still be 3: Eco, Normal and Sport, you can also choose EV electric mode but the autonomy is only for 2 km at 47 km/h. To ensure a better car trim, welds positions have been optimized for a more hard chassis, were added cross rear suspension instead of the rigid bars, McPherson suspension only for the front. The introduction of these devices and technical elements, will, compared to the rigid bars used on most sports cars, the advantage of absorbing vibration and enhance  the comfort, this is what Lexus engineers have said. The gear-box on this Lexus model is the variable CVT.
The most important side, and on which the brand Lexus relies heavily, is obviously the environmental compatibility of this model. Emissions are less than 100 g/km of CO2, lower values of the Audi A3 and BMW 1-Series.
The Lexus  Ct 200h  will arrive to the European market, as already mentioned, only in the spring of 2011, prices will range between 33,000 and 39,000 euros.
We cannot display this gallery
Related links Lexus of Peoria
[youtube]
Similar News: