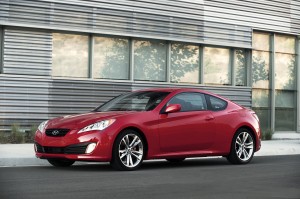 The Hyundai Genesis Coupe goes on sale in Europe starting in January, the sporty coupe 4.6 meters long with a front engine and rear-wheel drive was previously reserved only to the U.S. market. This is a two-door car that the Korean carmaker showed as preview just now at the Bologna Motor Show in Italy, and Europeans will have a more rigid trim level, more suitable to their tastes. Who perhaps grew up with the previous Hyundai Coupe, however, will face with an totally different model, with rear-wheel drive. Regarding prices announced for the market, they are a little bit over those of the old coupe and in Europe starts at € 29,000.
2 VERSIONS: The Genesis Coupe will be available in two versions, a more "normal", driven by a  2.0 Turbo 213 hp, and a more extreme with a 3.8-liter V6 and 303 hp under the hood, which according to the manufacturer accelerates from 0 to 100 km/h in 6.3 seconds. Both engines are paired to a manual six-speed transmission.
The Hyundai Genesis Coupe 2.0 Turbo Sport is powered by a four-cylinder 2-liter Theta engine boasting an output of 213 hp and maximum torque of 299 Nm. With this engine, the Genesis Coupe reaches 222 km/h and 0 to 100 km/h in 8 seconds. The equipment pack is unique, called 'Sport' and also common to the Genesis Coupe 3.8 V6 (33,000 € average), but has 303 hp and 360 Nm of torque, reaches 240 km/h and gets 6.4 seconds from 0 to 100 km/h. The Genesis Coupe 3.8 V6 comes with a great number of standard optional: metallic paint, 6 airbags, 19 " alloy wheels with 225/40 and 245/40 tires, automatic climate control, ESC, TCS, and above all self-locking rear differential. In the generous list are also included fog lamps, sports seats upholstered in leather and electrically adjustable, aluminum pedals and inserts with the same finish, power button, cruise control, lights sensors and sound system with CD-MP3 USB + AUX input.
We cannot display this gallery
[youtube]
Similar News: