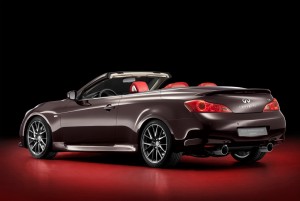 Infiniti, the luxury Nissan brand, waiting to get on the market with its first hybrid in the spring, the M35h and launch its first electric car within a couple of years, presents the Infiniti G IPL (high performance line) G convertible, basically is the G37 Convertible with an aggressive appearance. The Infiniti IPL G Convertible Concept is currently only a feasibility study to the public of the Old Continent to test reactions and possible appreciation and has as a main content the increased power of 18 hp for the 3.7-liter V6, total of 338 hp. Compared to the Infiniti G37 Convertible GT Premium, from which the IPL Infiniti G Convertible Concept derived, is been deprived of speed limiter, so that it can reach 270 km/h and accelerate from 0 to 100 km/h in 6 seconds. The trasmission is the 7-speed automatic with magnesium alloy paddles behind the steering wheel. Through a more open exhaust system that reduces back outflows pressure by 30%, top Rpm increased from 7,000 to 7,400, maximum torque has increased from 360 to 374 Nm while maintaining a flatter curve.
We cannot display this gallery
Suspensions also underwent to the IPL treatment with recalibrated dampers and stiffer springs that lower the balance of 10%. On the aesthetic we can see front spoiler, side skirts, oversized wheels (19 inch) and front black grille helping tp give to the IPL G Convertible that touch of essential aggression. The color of the prototype is called  Malbec Black, is a black pearl color with shades of red, the interior is red leather Monaco and the four seats are dominated from the hard-top electric roof that opens and closes in 25 seconds. The decision whether or not to bring the IPL in Europe will be based on the reactions that gave to media and public during last exhibition at the Paris motor show, just ended.
[youtube]
Similar News: