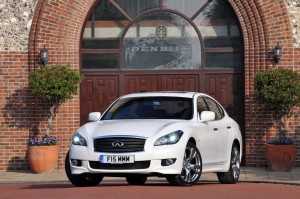 Infiniti, the luxury Nissan brand has confirmed pricing and specifications of the Infiniti M30d, the most innovative and original high-performance diesel sedan in Europe. The Infiniti GT M30d  is a popular model in the United States, where it is now in its third generation and try to gain its market in Europe focusing on quality construction and full-featured optional.
TOP STANDARD OPTIONAL: The range is so simple: two petrol and a turbo diesel engine, three pack levels and the Premium pack, very few optional because the standard equipment already cover the whole range to be desirable. Both in terms of technology and quality materials, there are all kinds equipment such as sensors, cameras, interfaces for various devices, sunroof, multifunction steering wheel, heated front seats with ten settings, Japanese ash inserts, silver powder finishing, bi-xenon headlights and leather interior. The GT Premium  pack is the most luxurious and comfortable level and the Infiniti M30d is what most closely reflects the wishes of the customer-type. But even the basic version of the M series offer the most common accessories.
ENGINE: M30d with 238 hp (175 kW) and 250 km/h does not lack anything of what the high performance sedan segment offers. The engine that equips the new Infiniti M30d GT is a V6 3.0-liter common-rail with variable geometry, it delivers 550 Nm of torque with a sprint from 0 to 100 km/h in 6.9 seconds. You can set the response of the engine through three different selections, Eco, Snow and Sports with the switch control that sets the 7-speed automatic transmission.
LOT OF SAFETY: Infiniti M premium version can boast a number of security devices such as the Blind Spot Intervention, Lane Departure Prevention, Forward Collision Warning, Intelligent Brake Assist. Also is notable the efficiency of the 4-Wheel Active Steering, which distinguishes the "S" versions.
PRICES: The European Pricing of M30d starts at € 53,000, rising to 57,000 for the M30d GT and to 59,000 for the M30d S.
We cannot display this gallery
[youtube]
Related articles