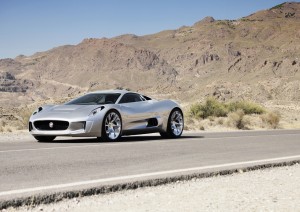 Jaguar has presented, at recent Paris Motor Show, the prototype of his electric full wheel-drive supercars, the Jaguar C-X75 Concept. The car was produced to celebrate the 75 years of the British brand, tying a single tradition and future in a fascinating concept cars. It's shorter and lower than current supercars, with Venturi under-body and exhaust gases directional control, in fact, allowed to keep the car slim, compact and low as possible and at the same time to generate high downforce and grip. Above the two air intakes of aluminum, there are two more intakes that convey cold air flow in a separate turbine cooling system. The doors, hinged at the front, opens with the system Jaguar Touch Sense, rising externally to the top. The range of the car is 110 km, thanks to six hours to charge the batteries. Four powerful electric motors of 145 kW (one for each wheel) deliver a total of 780 hp and maximum torque of 1,600 Nm, top speed of the C-X75 is 330 km/h and sprint from 0 to 100 km/h takes just 3.6 seconds. Even more impressive is the sprint from 80 to 145 km/h, which requires 2.3 seconds. The two micro gas turbines that rotate at 80,000 rpm, can generate enough energy to increase the range up to 900 km, with CO2 emissions of just 29 grams per kilometer.
We cannot display this gallery
It continues the brand's commitment to build beautiful fast cars, pointing to a new design and using the latest technologies to respect the environment. As in the new XJ, traditional instruments were replaced with adjustable pedals and TFT technology LCD high-definition for all three of the Human-Machine Interfaces (HMI) and . The gear selector knob is shaped like those of fighter jet and mechanism includes a manual action for the turbines, allowing them to run continuously for a top performance.
[youtube]