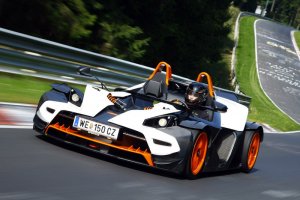 At the Racing circuit of Red Bull Ring in Zeltweg (Austria), was unveiled the new and more extreme version of the KTM X-Bow R, a roadster  in collaboration with Audi and Dallara, with even more extreme performance of versions Street and Clubsport.
The engine of the KTM X-Bow R, a 4-cylinder 2.0-liter TFSI of 240 hp, was right tested on the Zeltweg circuit, recently renamed Red Bull Ring, with all the X-Bow R performance optimizations and the most dynamic qualities. Folks of Mattighofen worked on the new larger turbine, the renewed injection system and ECU Bosch, to get a power increase up to 300 hp with a max torque of 400 Nm at 3,300 rpm. The weight of the X-Bow R, keeps the "normal" version, 790 kg, but the carbon fiber and aluminum frame rigidity has been optimized.
The package of changes and revisions made possible to achieve a better lateral acceleration of 1.5 g with the engine in a lower position as 19 mm and 15 mm for the barycenter, while the suspension has been tightened to ensure a better grip when driving in the track at extreme speed. KTM has not released further information about top speed and acceleration, which should still be a lot better than the standard versions which are declared at 217 km/h top speed and 3.9 seconds from zero to 100 km/h. The average European price of the KTM X-Bow R was set at € 58,800.
[Not a valid template]
[youtube]
Similar News: