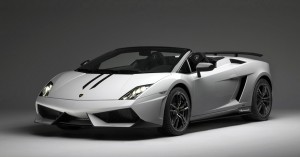 The Gallardo LP 570-4 Performances Spyder is even lighter, more agile, dynamic, and it's the opened version of the Gallardo Superleggera. The name "Performante" features a top level for an extreme sports car that combines dynamic performance with incomparable driving charm with the push of an exuberant ten-cylinder engine.
Less weight: As tradition of the Bull's brand, the Gallardo Spyder also features a Performing abundant use of carbon fiber to gain, weight, power, agility, probably less fuel consumption and emissions. Spyder weighs 65 kg less than the "normal" (1,485 kg) and 10 hp more, the 5.2-liter V10 provides the beauty of 570 hp. Performance improves accordingly with the 0-100 sprint in 3.9 seconds and 324 km/h top speed.
The power fascination: LP letters in the name Gallardo LP 570-4 Spyder Performante mean for "Longitudinale Posteriore" and defines the mounting position of the V10: mounted longitudinally behind the driver, as traditional Lamborghini demands. The number 570 indicates the maximum power in CV, corresponding to 419 kW that the engine develops at 8,000 rpm, 540 Nm torque at 6,500 rpm. The permanent four-wheel drive system transmits the driving force with a ratio of 30:70 between the front and rear. The low weight combinating to the V10 engine power enables the Spyder Gallardo LP 570-4 Spyder Performante an acceleration 0-100 km/h in just 3.9 seconds and reaches top speed of 324 km/h. This supercar comes standard with the six-speed automatic gearbox e.gear, which allows you to do the shift by two levers behind the steering wheel. The electronic management of the automatic gearbox does the shift with a precision and speed significantly higher than any achievable by human reflexes.
We cannot display this gallery
Lamborghini Aesthetics: Long 439 cm, 190 wide and 118 cm high, compared to "normal" Gallardo Spyder, the Performante has a new front bumper, is more aggressive and the large trapezoidal air intake are even more prominent. Redesigned rear extractor integrates the four tailpipes,  the back wing (on request) and the outside mirrors shells all in carbon fiber.
[youtube]
Similar News: