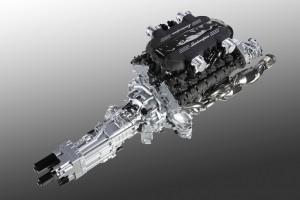 The Italian manufacturer Lamborghini has unveiled a new powerful V12 engine with 700 hp, coupled with automated manual transmission Lamborghini ISR. The twelve-cylinder engine with 6.5 liters displacement (525 kW) and 690 Nm of torque, comes from a completely new project designed in Sant'Agata Bolognese (Italy) with advanced technological solutions. It represents a synthesis in terms of extreme performance, the gear shift is more fast and precise with the DSG gearbox, low weight and moderate values of CO2 emissions. The event is particularly significant because this is the first new V12 engine  by the Italian from 1964, that when the outgoing version was first introduced. This engine has powered vintage cars such as Lamborghini Miura, Lamborghini Countach, Lamborghini Diablo and Lamborghini Murcielago.
ISR transmission: the new Lamborghini ISR gearbox (Independent Shifting Rod) brings intelligent innovations, the most 'important is the speeding up this gear shift operation thanks to a new engagement system gear. Shift operations are almost simultaneously: while one of the rods control disengages the gear on, the other rod can already engage the next gear. Overall, the new Lamborghini gearbox carries out the shift with a speed 40% greater than that of "e.gear" gearbox of Gallardo, who is considered one of the world's fastest robot gearbox.
We cannot display this gallery
Muscle engine: The new V12 6.5 L engine generates 700 hp and represents a significant technology discovery for Lamborghini. The maximum torque is 590 Nm, will be installed on Lamborghini Aventador just presented, and is lighter than the earlier model: the company has stated that the engine now weighs 235 kg. The President and CEO of Lamborghini Automobili, said: "With the new V12 we introduce a breakthrough technology that will involve all our future models and the entire company. Through an exceptional range of innovations Lamborghini will give a new definition of the future sports supercar. This 700-hp engine, along with a newly developed gearbox, next year will be the successor to the Murciélago's heart.
[youtube]
Similar News: