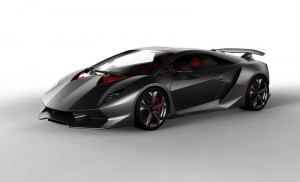 At Paris Motor Show the Bull carmaker has presented the Sesto Elemento Concept, the car's name comes from the sixth position of carbon in the periodic element table. What this means? Light! the new supercar is only 999 Kg light. Carbon fiber in recent years has been a real revolution in the automotive world introducing features of lightness and strength unthinkable till now and therefore able to reduce weight and consumption in modern vehicles.
Not for anyone: The new concept is a clear demonstration of strength of the House from Sant'Agata Bolognese (italy), which wants to confirm that supercar segment is stuff only for a few. The studies that led to the Lamborghini Sesto Elemento took place in excellence research centers in Seattle (Advanced Composite Structure Laboratory, ACSL) and Sant'Agata Bolognese (Advanced Composites Research Center, ACRC).
Extremely powerful: certainly this is a concept wiyh some features already very concrete and road tested since the engine that drives this racing car and also the Gallardo LP 570-4 Superleggera, the V10 can unleash 570 hp and 540 Nm of torque. The Lamborghini Sesto Elemento gets a weight/power ratio of 1.75 kg/ hp, in terms of performance it means 0 to 100 km/h in just 2.5 seconds and a top speed above 300 km/h. Stephan Winkelman, president and CEO of Lamborghini said: "The Lamborghini Sesto Elemento Concept shows what is the future of super lightweight materials and feature a high-performance driving. In this car we have concentrated all our technological knowledges, all future Lamborghini will be featured by the spirit in which it was made the Sesto Elemento. " According to Winkelmann, the future of Lamborghini supercar will soon become reality. But because of problems for the approval on roads, however, the Sesto Elemento is only a track-day car, or a sports car designed for racing use, comparable to the various Ferrari FXX, 599XX and Pagani Zonda R.
We cannot display this gallery
[youtube]