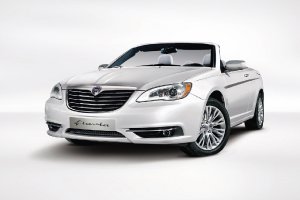 Geneva Motor Show 2011 welcomes the launch of the Lancia Flavia, the European variant of the Chrysler 200, introduced as prototype but in real is a definitive model and ready introduction in the European market under the brand Lancia. The new Flavia would require only six months to the development in the productive plants with sedan and convertible models.
The leadership of the Turin group, to trade Chrysler 200 in Europe, have chosen to repeat the name Flavia, a luxury sedan that has marked the history of the carmaker of Chivasso for all the 60's, but also was a convertible, the last since then.
Both configurations of Lancia Flavia Concept, sedan and convertible, stands out for fine leather interior, confirming the famous Lancia quality in the world, both by equipment that provides a rich variety of important content and by electronic stability control (ESC), several airbags (front multi-stage, side and window bags), the electronic traction control, the steering wheel with integrated controls to manage radio, cruise control and telephone in complete safety.
Technical details were not disclosed, but it is easy to imagine that if ever the two Flavia Concept should enter in catalogue, the propulsion units may be the four-cylinder Fiat Powertrain signed, leaving the Pentastar six-cylinder V for any sport version.
[Not a valid template]
VIDEO
[youtube]
Articles across the web
Similar News: