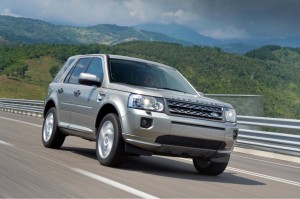 Land Rover released the first official pictures of new version 2011 Freelander 2, this is a refreshing coming four years later the launch of the powerful english Suv. The new Freelander 2 breaks a new motor's taboo as happened for the Aston Martin city car, a Porsche diesel and the announcement of a front-wheel drive BMW, here come the first two-wheel drive Land Rover. This news confirms the importance of the new car segment 4×2 whose share in Europe is around 24% of the total SUV segment.
The aesthetic resfresh: changes affect a new front bumper that incorporates fog lights into new frames, tail lights are new with black frame and transparent lens, door handles are the same of body color as well as door mirrors and nozzles headlight washers. Two finishes for the grid and depending on the model: 'Dark Finish'  for the TD4 150 hp and 'Bright Finish' for the 190 hp diesel and gasoline. The body color of the 2011 Freelander 2  can be chosen in three new colors: 'Baltic Blue', 'Fuji White' and 'Kosrae Green'. There are new 18 " and 19″ alloy wheels.
Euro 5 engines: The engine range includes two turbo diesel 2.2 engines Euro 5 which provides 420 Nm of torque,  saving on fuel consumption and emissions thanks  to the weight abatement of 75 kg and the Stop & Start system adoption. The first engine is the SD4 190 hp that runs 14.4 km/l with a seven-speed sequential gearbox as standard, while the second is the TD4 150 hp (16.1 km/l). Both versions can use diesel fuel containing 10% biodiesel and no more the 5% as before. As mentioned above, Land Rover offers to its customers an even wider choice, adding the version called 4X2 ED4 to its Freelander range. The renovated 4×4 versions will go on sale in Europe from September, while for the two-wheel drive ED4 it will be on 2011. Prices for diesel engines ranging from 28,000 to 47,000 euros. For petrol versions starts from 37,000 up to 48,000 euros.
We cannot display this gallery
Similar News: