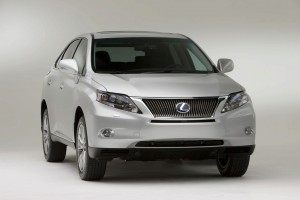 The Lexus RX 450h  comes as a full hybrid technology with a new record of emissions in the SUV segment, only 140g/km of CO2.
Front Wheel Drive: The Japanese car maker Toyota being very attentive to the ecology as well as confirms to not lose the ability to renew their engines, presenting for the first time the 450h Front Wheel Drive which is the access version to the RX range with a price of 55,000 euros. Performances are a little lower, from 0 to 100 in 8.2 s instead of 7.8 with a top speed limited to 180Km /h, with 4-wheel drive was 200 Km/h.
Hybrid System:  a 3.5-liter V6 249 hp flanked by two power modules, respectively 167 and 68 HP which related only to the rear wheels to make four-wheel drive and give a further boost when you need a big acceleration. We get to  a total power of 299 hp.
Style Luxury: Lexus RX 450h Platinum is placed instead at the top of the range, offers many standard extras such as a panoramic crystal roof with an electric oscillating panel, side camera, leather upholstery and the Mark Levinson audio system .
Market price of 72,450 euros.
We cannot display this gallery
Similar News: