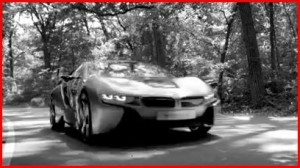 BMW has unveiled a series of four-part documentaries to support its sponsorship of the London 2012 Olympics Games.
Each film focuses on an athlete and member of the BMW London 2012 Performance Team (Louis Smith, Rebecca Adlington, David Weir and Steve Cram). Documentaries presents an exclusive perception in parallel between a professional athlete and the brand BMW.
The first film from BMW presents the Man and Machine documentary with David Weir.
The second film, 'Form and Function', which can be watched below this post, is a documentary by Richard D'Aragüés, director of TT 3D: Closer To The Edge. It looks at the stress between providing both aesthetics and technical potential as Louis Smith aims for gold with his pommel horse performance at the up-coming London 2012 Games. The short-movie, draws in parallel the same tensions in the development of the new BMW i8 concept car.
Louis Smith (born 22 April 1989) is an English artistic gymnast. Became Britain's 1st to win a medal for 80 years on the pommel horse in Beijing. In 2010 he won two silvers medals at the European Championships and a bronze medal at the 2011 World Championships.

Similar News: