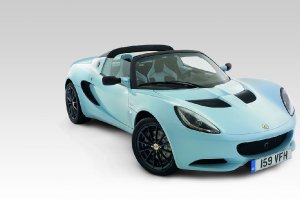 The Lotus Elise Club Racer debuted at the Geneva Motor Show (3-13 March) with the new model year 2011, which weighs 24 kg less than the previous version.
Lotus designers, to save on weight, cleared the soundproofing material, used a light battery and mounted the most light seats. In this way, the 136 hp 1.6-liter 4-cylinder must push an empty mass of 852 kg with a power per weight ratio equal to 6.26 kg/hp which contributes to abtain 149 g/km of CO2 emissions. Acceleration on 0-100 km/h is 6.5 seconds and a top speed 204 km/h. It's first time on an Elise, the Dynamic Performance Management –  to be switched off – which should enable the novice to drive with less apprehension. The Club Racer, also adopts an adjustable anti-roll bar, so to choose the correct setting for road or track.
The Lotus Elise Club Racer, in terms of aesthetics, stands out for the adoption of six new body colors, along with specific design elements, settting the purchase price at € 34,000.
[Not a valid template]
Articles across the web
Similar News: