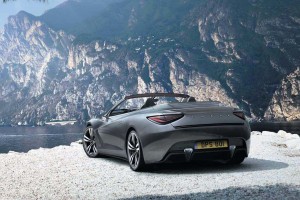 Lotus shows the new Elite Concept as world première at Paris Motor Show, that is held these days (2-17 october).
Although Lotus says that the Elite presented in Paris is only a first prototype for which there is still a lot of work, the model is the first concept as Lotus will be in the next decade. While other car manufacturers go to the "downsizing", Lotus, that have always done small cars, moves to a "Upsizing" of its range with the launch of the Elite. The concept car is 4.60 mt long, more than any Lotus now on catalog (the Evora, the largest, it's just 4.34mt), weighs 1,650 kg, more than any Lotus on the market (the Evora, 1350) and its engine on the front hood, rearward but not as central in the purest Lotus tradition.
Supercar performance: the 5.0-liter V8 gasoline can be equipped (optional) with KERS technology, it is a hybrid module that reduces the environmental impact without compromising performance. These, thanks to 620 hp and 720 Nm of torque is highly significant: the sprint from 0 to 100 km/h is covered in just 3.7 seconds (3.5 seconds, the hybrid version) and top speed at 315 km/h. These values join the 0-100 km/h estimated at 3.5 to 3.7 seconds while top speed should easily get at 315 km/h. These numbers bring the Lotus Elite on the top list of current supercar as Porsche GT2 RS, Ferrari 599 GTB and Lamborghini Murciélago, the most faster cars today. All with a design that seems even now, in this first version, quite successful.
We cannot display this gallery
The price: the Hethel's brand has already thought of a hypothetical price that seems too competitive on the market. The production will start in early 2014, while the first Lotus Elite delivered in the spring of that year will have a starting price of 115.000 pounds, almost 137,000 euro at current exchange rates
[youtube]