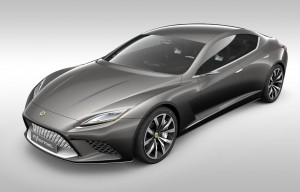 Lotus Eterne is the 4-door 4-seater supercar based on the concept presented at the 2010 Paris Motor Show, it's a prototype of what will be in 2015 a new competitor to the Aston Martin Rapide, Porsche Panamera and Maserati Quattroporte.
HYBRID AND ALSO KERS: new Lotus Eterne is equipped with a front engine 5-liter V8 supercharged of 620 hp, 720 Nm, rear wheel drive or full, top speed of 315 km/h and 4 seconds to reach the 100 Km/h, those values gives a position in the empyrean of supercars but with a comfort for the family. As with 'sister' Lotus Elite coupe, also Eterne can opt to equip the hybrid version, with integrated electric motor, KERS for energy recovery during braking and driving mode full hybrid. In this configuration, the Lotus Eterne is able to emit an average 220 g/km of CO2.
PRICING AS PANEMERA: New Eterne is already set up for the marketing: and we know also its price: about 120,000 pounds, equivalent to about € 139,500, a price tailored to respond to the Porsche Panamera Turbo, which costs € 138,000, but the power of the english is far more to that of all the other 4 doors on the market, with the exception of Bentley Continental Flying Spur Speed.
We cannot display this gallery
[youtube]
Articles across the web