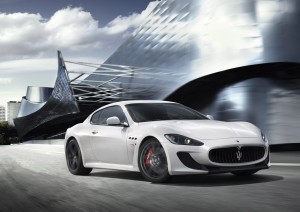 The new Maserati Gran Turismo MC Stradale (for road) is the most powerful Maserati and was shown during the exhibition of the Paris Motor Show. The Maserati MC Stradale, urban version of the car, was carried out by examining the technical solutions adopted for the racing models who compete in MC Trofeo and in the GT4 class. Thanks to a few interventions the 4.7-liter V8 is now capable of delivering 450 hp, 10 more than the already not bad Gran Turismo S, while top speed would be greater than 300 km/h, 510 Nm of torque that further increase of 20 Nm and sprint from 0 to 100 km/h in just 4.6 seconds without penalize fuel economy and CO2 emissions. Compared to the Gran Turismo S, Mc StradALE lost two seats, but gets a spoiler on the trunk and the skirts on the sides, while the front seems to go even farther forward, by the effect of a very refined and streamlined new design. The Brand of Modena is able to satisfy lovers of exclusive items, due to customizations that allow to match body colors and leather-Alcantara interior trim , choosing the color of the stitching, the edges of the seats, even the  Brembo brakes calipers.
We cannot display this gallery
From the first quarter of 2011, the official date of first appearing at dealerships, the new Maserati Gran Turismo MC Stradale will be the fastest car, light and powerful Maserati of entire range, offering a response to customers requests wanted a Maserati Gran Turismo able to combine their needs for on-road driving with a passion for sporty driving. This new car it summarizes handling experiences and refined aerodynamics from competitions of the three current Maserati sports programs. The traction on the rear wheels, automatic transmission and suspension will address to drive on the German Autobahn 270 km/h curves without slightest deviation.
[youtube]