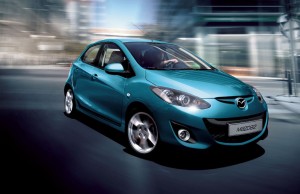 Mazda 2 Twenty-Eleven was shown again these days by the Japanese carmaker after the european premiere at Paris Motor Show. Three and a half years after debut of current version, comes its facelift that mainly concern the design, but also the engines, now more efficient in terms of fuel consumption.
The major renovation of new model year, known commercially as Mazda2 Twenty-Eleven, cover the front and wheels (available in both steel and alloy), now a more round style since last models by Hiroshima's brand, and to a choice between 11 exterior colors, including two completely new.
The interior of new Mazda 2-Eleven Twenty were also slightly altered, there are new moldings, new design for the instrument panel and new superior quality materials for coatings.
Three engines, all Euro 5-compliant: a 1.3L of 75 and 84 hp, a 1.5 of 102 hp. New diesel version 1.6L turbodiesel with 95 hp and 205 Nm, which consumes about 2% less fuel than the current diesel model, 4.2 l/100 km over combined cycle and produces less CO2: 110 g / km.
We cannot display this gallery
[youtube]
Similar News: