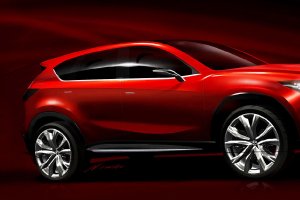 The Geneva Motor Show 2011 will be the place on which Mazda unveils its concept car Minagi, not just a concept but an open window on new stylistic trends, on technological choices and on ambitions of the Japanese brand.
The car is equipped with innovative technology SkyActiv and follows the teachings of Kodo Design, that essence or movement's soul (as they say in Japan) that mean three key words: "Speed, " "Tense" and  "Alluring" . The result on the car is a smooth design, clean lines that enhance the concept with ease of motion. Sides are slender, elongated headlights and alloy wheels that appears already in rotation. The Mazda Minage Concept is a crossover with raised trim, which anticipates the launch of the new generation of  the brand products, representing the evolution of the mark and the beginning of a new philosophy inspired by the concept of soul in motion.
Mazda Kinagi concept is not the classic car show: rather is a preview of a production model that should be called CX-5 and debuted in 2012.
[Not a valid template]
[youtube]
Articles across the web
Similar News: