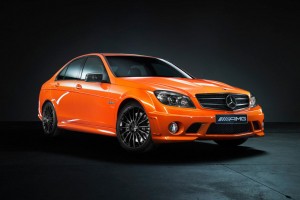 At the Australian Motor Show, Mercedes has set out the Concept 358, a single car built in cooperation between AMG and the Australian division of the carmaker. The Concept 358 is derived from the Mercedes C 63 AMG and the number "358" is relative to the KW developed by the 6.2 V8 engine.
The misssion "Concept 358" was orchestrated by Mercedes-Benz AMG to launch in Australia and Oceania, the AMG Performance Package Plus kit that raises the maximum power of the 6.3-liter V8 from 457 to 487 hp, in terms of maximum torque Mercedes Concept 358 reaches 600 Nm. Regarding performance, you can reach a top speed of 250 km/h and accelerates from 0 to 100 in 4.4 seconds.
Fully painted Designo Pearl Orange, other unique features of the Concept 358 are multi-spoke alloy wheels and 19-inch exclusive leather interior, limited slip differential and keyless-go.
We cannot display this gallery