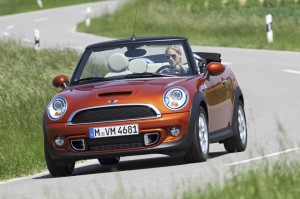 The next September is the official launch's date of the new range MINI,  renewed by introducing design changes, new diesel engines and a range of exclusive equipment. The small British car, owned by BMW, is to submit a umpteenth retouch to his appearance.
New Design: The new Mini Cooper shows a LED technology to the tail lights and the front hood has been redesigned for greater pedestrian safety. Complete restyling the front bumpers that incorporate a slightly larger air intake. They're also updated colors for the body and some new details at the interiors, new color "British Racing Green", "Orange Spice" and "Eclipse Gray" are only available for the Mini Cooper S.  Version "John Cooper Works" is available with the "Chili Red" roof and combined door mirror cover.
Engines changing: The redesign, also brings some adjustments for the petrol Mini,  engines are now available with 75, 98, 122 and 184 hp, version "Clubman D" now reaches 182 km/h and takes 11.8 seconds from 0 to 100 km/h. Also Is coming the "One" 90 hp (at 4,000 rpm) max speed 184 km/h and takes 11.4 seconds from 0 to 100 Km/h. All MINI uses the Minimalism technology that includes "Brake Energy Regeneration", Automatic Start/Stop function, the optimal changing gears indicator and EPS power steering.
The most powerful version of the Mini Cooper D has 112 hp and can accelerate from 0 to 100 km/h at 9.7 seconds and reaching max speed 197 km/h, simply consume 3.8 l/100 km and emit 99 g / km of CO2.
Equipments: Now with Mini you can choose equipment such as xenon headlamps, which for the first time, using the system "Adaptive Headlights" that directs the headlights  in line with curves and the speed of the car. Other news also covers Multimedia technologies such as the radio Mini Visual Boost with 6.5″ integrated screen that allows you to play video files stored on the iPod and display address book and calendar from smart phone via Bluetooth connection. The audio and navigation systems have a greater level of integration with external devices and mobile phones.
Official launch in Europe since August
We cannot display this gallery
[youtube]
Similar News: