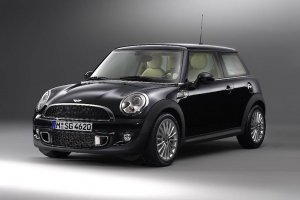 At the 2011 Shanghai Motor Show – April 18 to 21 – in addition to the Concept M5, 5-Series hybrid plug-in and 6-Series Coupé, BMW has introduced the Mini Cooper Inspired by Goodwood a special edition of the baby british that will produce 1000 units and set up by Rolls-Royce designers, right at Goodwood, West Sussex in England.
ROLLS-ROYCE MINIATURE: the Mini inspired by Goodwood shows new colors, high quality leather and rich details as well as a Rolls-Royce on a reduced scale. The style choice in the Mini Inspired by Goodwood reflects the desire for style, smartnessand and refinement which ends to features the exterior paint made from a special Black Diamond metallic and upon request the Reef Blue metallic. The 17-inch wheels shows an unusual design and the bonnet does not have the air vents as on Mini Cooper S, but a smooth surface as the Cooper D. Typical beige Rolls, "Cornsilk" features the bridge, air vents frames, instrumentation edges, carpeted mats, Lounge leather seats and the the roof lining. The dashboard eyelid is made of black leather, while the walnut burr adorns the dashboard and steering wheel. Each Mini Cooper Inspired by Goodwood, of the thousands, has the aluminum plate with the name of the special series. The standard equipment includes adaptive xenon headlights, parking sensors, automatic air condition, onboard computer and the Mini Visual Boost Radio.
Technical aspect of MINI Inspired by Goodwood are identical to those of the MINI Cooper S MY 2011 with the four-cylinder 1.6-liter turbocharged, 184 hp and 260 Nm of torque with overboost function. It takes about 6.6 seconds on 0-100 km/h and fuel consumption – according to BMW – is 5.8 liters per 100 km. Optional extra is the automatic transmission.
The MINI Cooper S Inspired by Goodwood price is set – for Europe – at about € 46,000.
[Not a valid template]
[youtube]
Similar News: