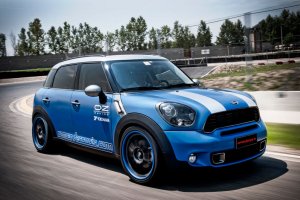 A MINI Countryman 150th Anniversary a bit German, British and Italian.
The tuning specialist Romeo Ferraris to celebrate the 150th of the italy's unification, offers the MINI Countryman 150th Anniversary, which stands for the bodywork, which is in dull blue color of the Italian national teams. The customization of the Mini Countryman 150th also includes tinted headlights and OZ Racing 192 alloy wheels with blue edges. The roof comes with the same tint of one of the 500 Abarth 150th with stripes on the hood and tailgate, and the mirror caps which can also be with the Italian flag (optional). As for the interior, stand out the ice leather seats, with contrast stitching and blue borders around all perimeters.
A increased road holding for the Mini Countryman 150th.
The special celebrative edition features tires Yokohama Advan 225/40, which optimize the road holding with the lowering of the CG. The balance of the Mini Countryman 150th Anniversary is equipped with adjustable suspension, which may lower the vehicle up to 5 cm from the ground.
The S Cooper engine for the Mini Countryman 150th Anniversary.
The Italian tuner decided to use the engine 1.6 turbo by 184 hp of the Cooper S to fit it on the Mini Countryman 150th, with a power boosting of +43 hp + 88 Nm, obtained by the ECU reprogramming, a more efficient intercooler and the new exhaust system, similar to the one of the racing version Mini Countryman WRC. The Mini Countryman 150th Anniversary has a Brembo braking system, which has been enhanced with cross-drilled discs by a diameter of 328 mm and 4-piston calipers.
[Not a valid template]
[youtube]
Similar News: