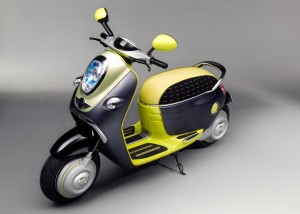 The MINI E Scooter Concept is officially leading in the kind of media's war of electric scooters, which is between the British brand and BMW Group, both of them in world première at the Paris Motor Show (2-17 October). The proposed two-wheeled Mini is actually available in two different equipment: a single-seater, sporty, and another one for two people, both aim to attract the same audience that appreciates the Mini with four wheels, those are young customers, sensitive to fashion. The classic style of Mini is found in the headlight clusters that recalls the Countryman and on the front shield recalling a car's windshield. The Mini E Scooter concept is powered by an electric motor integrated in the hub of the rear wheel, powered by lithium-ion battery placed under the seat. The battery is charged by connecting the cable supplied with a standard outlet 220 V.
We cannot display this gallery
As the Smart escooter competitor, the instrument panel on the handlebars integrates the area to connect a smartphone, works as key, screen and unit control. Telephone, audio system and navigation system are some of the features offered by the smartphone in the middle of the instrumentation panel, plus the ability to connect via Bluetooth with MINI Collection helmet equipped with a microphone and speaker. Services such as mapping MINI Connected Google Maps are also available, plus access to social networks on the web and even the automatic activation of the flashing lights when cross two vehicles.
[youtube]