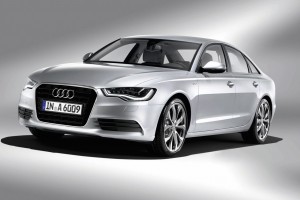 Audi has just presented the fourth generation of his large sedan, the A6, which arrives in dealerships early next year and available later in 2012 as hybrid version. Will be shown on live at the Detroit Motor Show in January, while for the sedan A6 Avant, beloved for years in Europe, you will have to wait until spring and the Geneva Motor Show.
5 VERSIONS: The range currently consists of three petrol versions and two diesel engines, the new A6 are all equipped with direct injection and energy recovery during braking and stop & start. Any Transmission: manual, 7-speed dual-clutch and multitronic continuously variable ratio. The entry version is the A6 2.8 FSI multitronic, with six-cylinder petrol V-204 horses (150 kW), front-wheel drive and continuously variable automatic transmission, which costs on average € 45,200. With the same propulsive drive – but with the dual clutch S Tronic – is also available as four-wheel-drive variant, on catalogue with an average starting price of 48,000 €. The maximum torque of the V6 of 2.8 liters is equal to 280 Nm and is available between 5,250 and 6,500 rpm. The front-drive version is credited with acceleration from 0 to 100 km/h in 7.7 seconds and a top speed of 240 km/h. Consumption reported would be 7.4 liters per 100 km, with CO2 emissions of 172 g/km. At the top of the petrol range is the A6 3.0 TFSI: its V6 develops 300 hp (220 kW) and 440 Nm of torque constant between 2,900 and 4,500 rpm. The Audi A6 3.0 TFSI stopped the clock on the 0-100 km/h in 5.5 seconds and is credited with a top speed of 250 km/h. Average fuel consumption reported by the carmaker stood at 8.2 liters per 100 km with an equal CO2 emissions of 190 g/km.  A6 3.0 TFSI  pricing will be at  the average of € 54,000.
DIMENSION AND STYLE AS ALWAYS: 4.92 meters long, 1.46 high and 1.87 wide with axles distance of 2.91 meters, the new A6 is slightly shorter and lower, but wider, with more relaxed wheel base that does not break stylistic patterns already known to the creations of Ingolstadt. The A6 is a classic car size (like the Audi A4) with the front typical Audi: a well-defined trademark, nothing revolutionary, but highly effective. Analogies with A7 obviously concerns the body which was made by wide usage of aluminum, as for hoods and doors. The weight was then reduced, though not by much: for istance, the 2.0 TDI goes from 1620 kg to 1575 (-45).
INTERIOR AND OPTIONAL: The interior is inspired by the flagship A8, with a clearly visible instrumentation (including MMI), the navigator on request which works in conjunction with Google Earth, Internet thanks to WLAN, the head-up display that provides data on the windshield and of course a wide choice for upholstery and interior materials. The boot capacity is 530 liters. Among the most expensive option, the headlights led at 3270 €, seats are also not cheap: choosing those "Comfort" from € 2970, you can add functions of ventilation and massage (€ 2610) which require the to order the leather Valcona (2,680 €) and heating (440 €), reaching the considerable sum of 8,700 €.
HYBRID IN 2012: There are other engines, a more powerful V6 and V8 diesel for sportier versions including a 4-liter twin-turbo that will be the soul of the S6, the hybrid version and then the A6 Allroad with raised body. Still far RS6 version which will play as a competitor to the BMW M5 and Mercedes E63 AMG. Probably then the arrival of a hybrid version with even more advanced diesel engines and plug-in.
We cannot display this gallery
[youtube]
Articles across the web