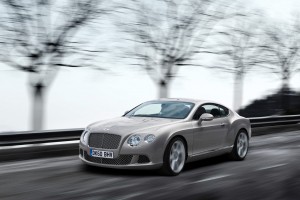 Bentley introduces the new Continental GT at motor-show in Paris, this 4-seater coupe had its first appearance in 2003 to give impetus to the revival of the Bentley. At first glance it might sayed that new Continental GT is very similar to the previous series, but it is a completely wrong assessment. The new coupe from Crewe was in fact designed with the british philosophy for which any renewal is always inscribed in the sign of a strictly tradition, but technically the GT-2010 is largely unedited. The classic Bentley grille is more upright, while the new design of the headlights, with the traditional four lights, is with the LED daytime running lights, as well as the rear, which extend around the corners of the fenders. The body gives more harmonious with the new Continental GT look better defined, with luxurious interiors always craftsmanship. Renewed seats which now offer more comfort and more room for those sitting back while the dashboard has a more modern look. There are three types of alloy wheels: five-spoke 20-inch and two 21-inch for variants Elegant and Sports, available in different finishes as chrome and painted. Leather, roots, metal, velvet, everything is Bentley handmade in workshops. The boot measures 358 liters offering space needed for a weekend the family.
There is no shortage of new technology, the new system Infontainement with 30 Gb hard drive comes with a touch of the latest navigation features that take advantage of Google Maps, while the advanced technology applied to the Balanced Mode Radiator speakers and digital processing solution signal 'Dirac Dimension' gives an even more advanced audio system.
The new 2011 Continental GT weighs 65 kg less (total 2350), a reduction which, together with increased power, improved performance slightly on the "0-100" (now 4.6 seconds) and top speed (318 km / h).
The 6-liter twin-turbo 12-cylinder engine delivers 575 horsepower, 15 more, with a torque of 700 Nm and combines to a new transmission that allows you to scale two gears at once. The gearbox that equips the Continental GT is the Quickshift ZF six-speed steering wheel-mounted controls. FlexFuel technology gets power by unleaded petrol, bioethanol sustainable for transport (up all'E85) as well as any combination of the two fuels. Confirmed for 2011 the arrival of a brand new 4-liter V8.
We cannot display this gallery
Edo Competition Bentley Continental GT Speed
[youtube]
Similar News: