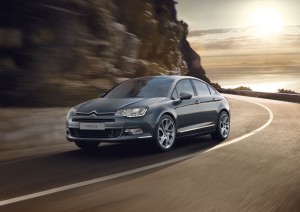 The Citroen C5 Model Year 2011 comes to european dealers with new technical update and a slight facelift of versions Sedan and Tourer. Launched two years ago, the C5 shows the first redesign of its career, in addition to minor updates is also expanding the engines range with three new units.
LIGHT FACELIFT: The French car D-segment has new headlights with LED technology designed specifically with bi-xenon lamps and cornering feature, while the sporty tail lights has new effect "Dark Crystal" with a white section in the middle.
The interior of the new C5 is exemplified by the instrument panel design allowing an electronic display unit to be integrated in the centre of each dial. Highest comfort standards for occupant in the new C5, with special attention having been paid to the acoustics, suspension and seating.
3 ENGINES: The Citroen C5-HDi is only available with the 1.6 HDi 110 hp combined with diesel particulate filter and manual transmission driven CMP6, comsumption are 4.9 liters per 100 km and 125 gr of CO2 emitted per thousand meters. Debut in new range also a 2.2 HDi 204 hp and 450 Nm, the only transmission offered ix six-speed automatic and this version can be recognized by double chrome tailpipes. Performance are significant: acceleration 0-100 km/h in 8.3 seconds (8.6 for the Tourer), speed of 230 km/h (225 mph) and the combined cycle fuel consumption equal to 6.1 liters per hundred kilometers (159 g/km CO2). The new range of Citroen C5 also proposes a new petrol engine associated with the 6-speed manual transmission controlled by paddles behind the steering wheel. Resulting by collaboration with BMW, this 1.6-liter engine develops 120 hp with consumption of 6.2 l/100 km in average approval, CO2 emissions equivalent to 144 g/km.
Similar News: