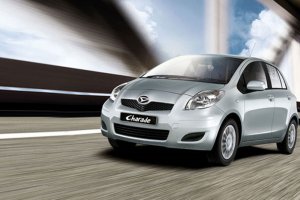 The new Daihatsu Charade, based ​​on the current generation of the Toyota Yaris and presented at the Geneva Motor Show, finally reaches its dealers. The debut of this minicar is within a few months after the Japanese carmaker's decision to retire from the European market since 2013.
The new Charade, to be built in Thailand's plants and then imported to Europe, is a B-segment car with a unique engine available: the 1.3-L by 100 hp and max torque of 132 Nm. The new Charade is derived from the Toyota Yaris platform, its length is 3.79 m, width 1.7 m and the height is 1.53 m. According to Daihatsu, the city car can reach 175 km/h in top speed and take from zero the 100 km/h in 11.7 seconds with an average fuel consumption of 5.4 liters per 100 km.
New Daihatsu Charade will have two version, one with the 6-speed manual transmission (€ 13,550 *) and the other with the automatic gearbox 6-speed multi-mode (* € 14,150). The package of standard equipment is unique for both versions and features manual air conditioning, electric mirrors, radio with CD/MP3 with remote controls on the steering wheel which wrapped by leather. The metallic paint is the only optional extra not included in the standard package.
* prices are estimate on european average.
[Not a valid template]
[youtube]
Similar News: