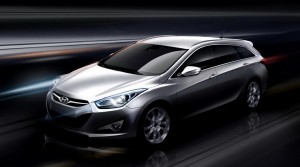 The new Hyundai i40CW will be officially presented at the upcoming Geneva Motor Show held from next 3 to 13 March 2011, but are already online first drawings of the official Korean car that in Europe will take the place of the Sonata sold in the U.S. market. It's a car designed for a sedan / coupe and wagon / coupe, very pleasant in the appearance with taut and sporty lines. Especially for the wagon version, the result is an excellent combination of space and design.
The Korean brand is part of the so-called D-segment, the one which is very popular in Europe and the one of Audi A4, BMW 3 Series and Opel Insignia. A market segment also very important for the corporate fleets. The i40 has been specifically designed for the tastes of European customers: designed in Germany, the Hyundai i40 is philosophically very similar to the Opel Insignia Sports Tourer, for the wide sides, high beltline and the sporty look. The new car will be  4.77 meters long and 1.81wide, will have a wheelbase of 2.72 meters. Chrome detailing enhance the look, like the frame borders around the windows and the horizontal profile between the taillights, as well as bars and roof spoiler.
The wide choice of engines will be 4-cylinder gasoline ranging from a 1.6 GDI 140 hp to 2.0 177 hp, while for diesel the choice will be limited to 115 or 136 hp of the 1.7 CRDi and only later will be available the 2.0 CRDi 177 hp.
We cannot display this gallery
Related articles