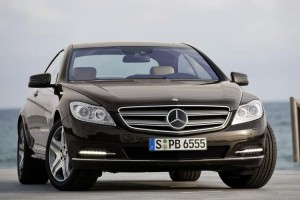 Mercedes presents its new luxury CL 500 by a new aesthetic and more efficient edition with the introduction of CL 500 BlueEFFICIENCY variant.
Aesthetically, the new Mercedes CL has some minor adjustments, including for example the newly designed front bumper with integrated daytime lights integrated to the side air intakes and direction indicators/ position led lamps. Most significant changes, however, are at the motorization. CL 600 (V12 5.5-liter 517 hp) now meet Euro 5 and, what is more important, the CL 500 is the CL 500 BlueEFFICIENCY substitute.
The V8 CL 500 BlueEFFICIENCY has been completely renovated than the "old" CL 500: displacement descrease from 5.5 liters to 4.7, but power and torque increased (435 hp and 700 Nm instead of 388 hp and 530 nm). Consumption also improved, German House says 9.5 liters per 100 km instead of 12.3. Contribute to the result a new type of direct injection (third-generation jet guided), the stop-start function, the low rolling tires resistance and a whole range of  measures to reduce wasting, such as saving energy adjustment at the alternator, power pump,  compressor air conditioning and power steering.
With a price that reach over 120 000 euros, a Mercedes CL comes with  all sorts of equipment, including many leading system security. Some examples? Adaptive headlights, the night vision system "Nightview plus", the "Active Blind Spot Assist" monitoring the blind angle, the chassis suspension with "Active Body Control" with stabilization of the vehicle in presence of crosswind and "Attention assists". This device detects more than 70 parameters to consistently recognize the signs of tiredness of the driver and warn him before fall asleep.
We cannot display this gallery