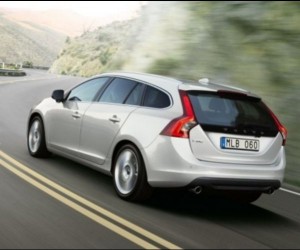 Odd Couple, the Volvo S60 and V60. Two models were born to be family and sedan car with a dream in the heart of being coupe, on its style at least . The impression is confirmed by Orjan Sterner, exterior design director of the V60: "The goal was to make the car as close to a coupe. Our sport wagon will not compete with the traditional family: who looks for cargo space can have the V70.
Four meters and 63 long, the V60 is positioned between the other two  wagon Volvo V50 and V70. Its chassis has been designed in parallel with that of S60, the road performance is also assisted by the Advanced Stability Control. There are also interesting safety equipment such as the "New curve traction control", which improves curving stability, the City detection and City Pedestrian Safety – Avoid respectively collisions at low speeds and collisions with pedestrians – and the Driver Alert Control, which prevents falling asleep.
Engine's range of new Volvo V60 is very broad and includes also the powerful units that are already available on S60, even in some of the quietest 1600. Version 1.6 D DRIVe, for istance is equipped with a 1.6 diesel with 115 hp. As regards the gasoline engines, you can choose between the T6 six-cylinder 3.0-liter, 304 hp, the 2.0T to 2.0 liter 203 hp, the T5 240 hp 2.0-liter and two 1600 T4 (180 hp) and T3 (150 hp). For those who prefer diesel, however, in addition to 1.6 D DRIVe there are two 2.4-liter five-cylinder D5 and D3 from 205 hp to 163 hp from 2.0 liters.
The V60 will debut before an audience in September at the Paris Motor Show. It will be manufactured at the Swedish Torslanda in 50,000 copies a year and sale from next autumn. The House plans to sell the V60 to 90% in Europe, particularly in Sweden, Germany, Italy, Britain and Holland
We cannot display this gallery