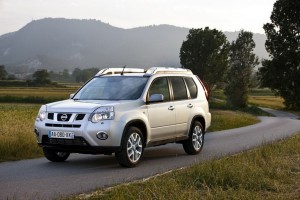 Nissan has released official images of the revised X-Trail destined to Europe in September. As it happened in 2007 first update, the second redesign is not going to change the essence of the Japanese 4×4, having been a success in the old continent, so the aesthetic refresh comes with minor adjustments and minor improvements to help the market's presence.
New look: Nissan X-Trail 2011 has aesthetic differences than the previous version and mainly concentrated to the front, the redesigned grille, new headlights and bumpers whose similarities remember the Nissan Pathfinder. Some versions will be available with xenon headlights, while the rear position and stop lamps now use LED technology. The aesthetic side has been improved with the adoption of 18″ ten-spoke alloy wheels with 225/55-18 tires. five-spoke 17″ wheels are also available. Both alloys have led to redesign the wheel arches and size increase of 0,4″ length. The X-Trail interior has been amended by increasing passengers legroom and seats size. Passengers comfort has been improved in the rear sector with addition of heated seats, while the driver has a rear camera's screen available, built-in rearview mirror, that helps when parking.
Green X-trail: The 2.0 dCi diesel engine, available with 150 and 173 hp, has been updated and now complies with Euro 5 standards. Emissions and fuel consumption are reduced through the diesel injector modifications, (now has seven holes with different shape of the combustion chamber) and the use tyres with low rolling resistance. Further improvements to 2011 Nissan X-Trail were made to change and optimize the power consumption, one of these the optimal gear change points that appears in the onboard computer, available on version with automatic transmission.
We cannot display this gallery
Similar News: