Although the brand new Nissan X-Trail briefly offers a sense of Qashqai nostalgia, let it be known that this 2WD powerhouse is certainly something to lend your attention to. With a larger rear end and 7 spacious seats, this fully-fledged family trickster is now up against the likes of Honda's CR-V and the Mazda CX-5, meaning it now plays a crucial role within Nissan's fleet of SUVs.
There's no doubt that the new X-Trail looks a lot like the Qashqai, but this is to show that it belongs in Nissan's chrome grille family of cars, which also includes the Juke. Furthermore, with the X-Trail replacing the Qashqai+2, customers have the choice of either a 5 or 7 seat X-Trail – but is it worth some quick cover car insurance for a test drive?
Space Glorious Space
Although the new X-Trail's figure is based on the current Qashqai, the extra 8mm added onto the rear combined with the 76mm longer wheelbase means that this vehicle is more of a space-racer than your typical SUV. The X-Trail's interior is even more spacious than its predecessor, with passengers benefitting from 100mm of extra legroom, and the flatter roofline means there's more headroom too.
Unsurprisingly, even a child would feel a little cramped in the X-Trail's third row seats, but because of Nissan's clever packaging, all of the seats can be effortlessly arranged, most notably into an uninterrupted flat floor. When it comes to the boot, the Qashqai's 410-litre is completely eclipsed by the X-Trail, which offers an extremely roomy 550-litre.
Kit
At £29,995 for the top spec Tekna (manual), customers won't be disappointed by the X-Trail's additional features. Not only does Nissan offer an 'X-Tronic' CVT transition (£31, 345), but with a fixed glass roof, 19in alloys, a wealth of safety gear, LED headlights and even a 360-degree parking camera, it's hard to look past the X-Trail in the SUV market. If you like staying connected while you're out and about, you can even download Facebook and Google apps for the 7in display.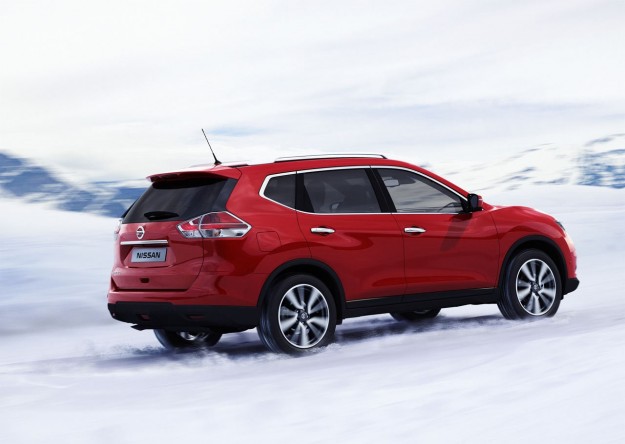 Under The Bonnet
If you're looking to purchase a petrol X-Trail then you'll have to wait until 2016, unfortunately, good for motorist seeking low temporary car insurance. Furthermore, although the new X-Trail is 90kg lighter, don't expect a sprint from 0-60 either (11.4), as the engine has been downgraded from the previous 148nhp 2.0 litre TDI to a 1.6-litre 121bhp turbo-diesel. One up side to the X-Trail is the fuel consumption however, pushing out 55.4 mph compared to its predecessor's 44.1mpg.
The Cabin
For those families looking to purchase the 7 seat X-Trail, whether the SUV is able to handle the madness of the morning school run will certainly be a consideration. Firstly, there's more than enough room to keep everyone comfortable, but there's a little lack of consideration for the interior's materials which are more 'adequate' than 'premium'. For a spacious run-around the X-Trail is perfect for those with young kids in tow, and although it lives up to its sturdy appearance, it's a little short of dazzling.
The X-Trail might be bigger, that doesn't mean it is better. Nissan have ensured that their latest entry into the SUV market appeals to a broader audience than the Qashqai did, but during this process it's also lost a little character. It does lots of things well, but there's no stand out element to turn heads, which for £29,995 doesn't scream confidence.