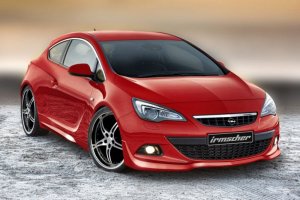 Astra GTC Irmscher even more powerful.
Opel has instructed the German tuner Irmscher to tune the Astra GTC, a version that will be presented at the next Frankfurt Motor Show (September 15 to 25 the next). The compact German car would not need further engine modification, because the standard Astra GTC has 180 hp, but we are in an age where rages the tuning craze.
The aesthetic tuning of the Opel Astra GTC Irmscher.
Astra GTC Irmscher comes with new dedicated bumpers with new sports grilles and a rear diffuser that emphasizes the exhaust system with four terminals. Sided of the Astra GTC Irmscher, show skirts with a more extreme, while the rear has been customized with a big spoiler that besides having an aesthetic effect, helps to increase the rear downforce of the new Opel Astra GTC Irmscher. To complete the car's bodywork, the tuning specialist for opel modifications added very large 21-inch wheels and 245. The interior of the Opel Astra GTC Irmscher outstanding high quality leather and metal inserts applied on the gear knob , pedals and other details that highlight the sporty styling of the car.
Astra GTC Irmscher features extra 32 hp.
The changes introduced to the 1.6-liter Turbo engine have allowed the 2012 Astra GTC Irmscher to receive a power increase from 180 hp to 212 hp with 274 Nm of max torque. The increased performance of the new Astra GTC Irmscher, compared to the standard car, required a balance lowering of 30 mm with stiffer suspension.
[Not a valid template]
Similar News: