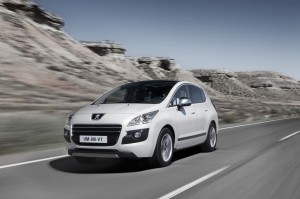 The French company had repeatedly announced a new hybrid Crossover car . Finally, the Peugeot 3008 HYbrid4, ready to get in the market,  combines a 37 hp electric motor to a turbo diesel engine that delivers 163 hp. The technology developed by the French automaker on the new version has resulted in the first car in the world that combines a diesel engine to the electrical system, an excellent solution for those who face long journeys but also drives in the city. Design of Peugeot 3008 Hybrid4 does not change much, will be the first model that exhibits the new Peugeot logo, have been added chrome aesthetic inserts and daytime running lights with LED technology.
2 engines for better save: Another important feature of the 3008 'Lion' brand, will be to be very sophisticated, modern and technological, especially for engines. They have a 2.0 HDi FAP Euro 5 diesel capable of delivering 163 hp and an electric 37 hp contained on the bottom back of the car, so the car gets a total power of 200 hp and peak torque of 500 Nm. Engines management on the new Peugeot 3008 Hybrid4 is entrusted to a six-speed automatic gearbox that gives efficient fuel consumption as 1 liter of gas to get 26.3 km and  just 99 g/km CO2 emissions. It's very interesting last generation Start & Stop system, 8 kW powered to provide electricity needed to the electric motor at all instances, even when they must work with the AWD. Hybrid technology, contrary to rumors, not detract from the driving pleasure: the car has high level performances but not just that, you can also choose from 4 driving mode selectable by the driver: 'Auto' mode, in which the system is managed automatically optimizing performance and consumption; 'ZEV' (Zero Emission Vehicle), uses only the electric motor; '4WD' begins to operate the two engines working simultaneously providing permanent four-wheel drive, 'Sport' mode uses the full power of both engines. Nickel Metal Hydride batteries powers the electric motor, they are located under the floor of the trunk, so for the trunk remains 420 liters of space.
The new Peugeot 3008 Hybrid4 will go on sale in Europe since the spring of 2011, the price will be around 31,000 euros.
We cannot display this gallery