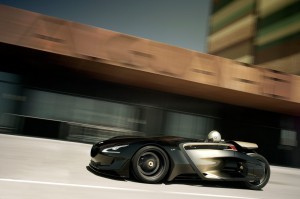 The EX1 is new Peugeot concept car that the French company has added to its fleet. The audacious concept car with two close rear wheels and really extreme lines, it seems coming from the script of a science fiction movie or a video game. This is an innovative and futuristic sports car, equipped with a 100% electric motor, despite its electrical nature, would be able to develop 340 hp, a very unusual power.
The manufacturer's electric prototype, on the circuit in Monthlery, three world records on sprint from zero: 1/4 of mile in 14 "40 at 62.4 mph, 500 meters in 16" 81 at 107 km / h , 1000 meters in 28 "16 at 127.8 km/h. Three results, which must still be approved by the FIA, but are enough to understand that this "dream car" is interesting not only for its speed performance.
We cannot display this gallery
This two-seater roadster is 1.77 mt wide and high as 0.9 mt , like a car in front but middle size to the rear with two close wheels with those that reflect the ideas already expressed by Peugeot on two concept cars of the past: the 1996 Asphalt and the two 20Cup 2005. The French concept deploys advanced technical solutions: carbon monocoque frame, double wishbone front suspension, while the special rear axle is made of a single bar with oscillating lever shock absorber. Features that should ensure, to the Peugeot EX1, the maximum grip. Of course, the EX1 will not come on the roads soon. Also because many people and experts think that the cost of the car, caused by the high technology used in its implementation may be such as to leave the car at just a prototype.
[youtube]