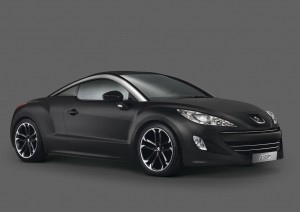 Peugeot RCZ Asphalt is a special series which debuted at the Paris Motor Show, and is the first car to have a symbol of the Lion without the typical number. For the aggressive French coupe is the third special series and follows the previous Limited Edition Black Yearling.
This model will be produced by the manufacturer with only 500 units, featuring an elegant matte black body color called "Telluric Noir ', combined with other elements in the same tint as 19-inch alloy wheels and Asphalt black leather interior. The seats were stamped with the mark Asphalt, to make clear to whoever sits in that car that is not a Peugeot RCZ whatever, but a special and exclusive edition. Unfortunately it seems that most of the Peugeot 500 RCZ Asphalt will be sold only in France.
The Peugeot RCZ Asphalt is equipped with the 1.6 liter THP 200 hp, have not been released other special features of the model. Among the news is the installation of double 5-spoke wheels and Continental tires. The car is customized by the Asphalt identifying logo in several places.
We cannot display this gallery
[youtube]
Similar News: