I remember the pickups my dad used to drive. Inside a pickup cab back then, there was a single vinyl-covered bench seat with minimal padding and no headrests. Much of the interior would be metal and the tinny AM radio was all there was for "entertainment." A lot has changed in the pickup world.
Photo Credit: Fellowship of the Rich via Compfight cc
I had a chance to check out the 2014 Chevy Silverado just to see how different it was now. The first thing I noticed was that the double cab (what they used to call the crew cab) now had front-hinged back doors that were the about same size as the front doors. There's room back there for both of my six-foot sons, unlike most modern sedans. They don't know how good they have it. When I was their age, if there was any seating behind the bench, it was facing inside and on a little pad about a forearm's length wide.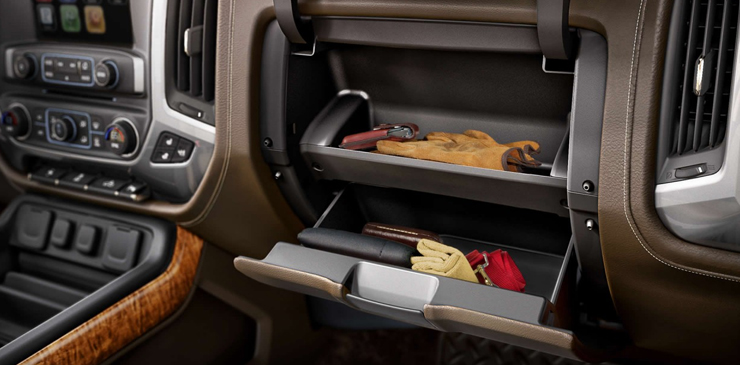 Photo credit: GM.ca
The seats, like the rest of the interior, is tasteful and restrained with what feel to me to be quality materials along with admirable fit and finish. They feel as though they'd be more at home in a luxury car than a hauler. A far cry from the days when driving or even sitting in a pickup was like a term in a penalty box.
Up front, there's a well-put-together car-like instrument cluster and tons of storage space. From the massive center console, which easily swallows my laptop, to the in-door cubbies, there's a spot for pretty much anything. All the storage compartments remind me that many pickup drivers use them for their primary business, and need these spots more than I do.
In the middle of the dash is the truck's communications system. The main feature is GM's Intellilink, which comes with an eight-inch touchscreen with apps to control the Silverado's entertainment and communications features. It comes with hands-free controls and can hook up to any smartphone, USB ports and an optional 110-volt outlet. Of course, the very idea of listening to satellite radio while passengers worked on a laptop and communicated hands-free on a smartphone wouldn't even enter the dreams of old pickup owners, who made do with looking out the window or trying to figure out what song was playing on the AM radio.
The whole experience is almost the opposite of what it was when I was young. Back then, a pickup was a place to get from worksite to worksite, usually carrying a lot of stuff. Any human comfort or enjoyment was totally coincidental. These days though, pickups like the Silverado are more like big luxury cars on the road and home offices when they're parked.
I can't say I'm the least bit sentimental about the old days.