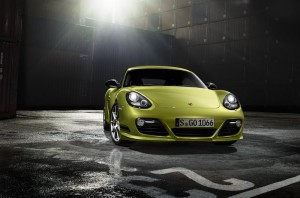 Porsche  devotes a great Cayman to those using a Porsche even on circuit, giving priority to the driving dynamics of the car, reducing weight (55 kg) and increasing the power (10 hp). Despite all the charm that Porsche 911 is still capable of arousing audience, the best is the Cayman to connoisseurs. New Cayman model is called R and debuts in its world premiere at the Los Angeles Motor Show, performance are similar to those of 911 Carrera, but it costs 10.000 more. You have to go back to 1967 to find the first R Porsche, in that case was a 911 with more than 200 kilograms less than the normal version, all body panels of the twenty vehicles were made of glass fiber.
"Bad" Design: Several features as sporty signs, both inside and outside, distinguished the Cayman R from the Porsche "normal." Compared to the Cayman S the body was lowered by 20 mm, there is a fixed rear spoiler, alloy wheels painted in silver and many sporty details such as headlights with black tint, exterior mirrors in black and Porsche badge on the side and contrasting color black or silver depending on body color.
Performance: the unnecessary 55 kg give 10 hp to the 3.4 6-cylinder boxer. Each of the 19-inch wheels weigh 10 kg less, the chassis has been lowered by 2 cm. All these measures helped to increase the maximum speed of 5 km/h, to increase to nearly 282 km/h, and to make the sprint from 0 to 100 km/h in 5 seconds. By mounting the dual clutch seven-speed optional extra, these values become 280 km/h and 4.9 seconds, while with the optional Sport-Chrono  the sprint is in just 4.7. In view of these excellent speed performance the average consumption is 9.7 l/100 km. As for the 911 GT3, the 911 GT3 RS, Boxster Spyder even for Cayman R is available as optional a lightweight lithium-ion battery.
We cannot display this gallery
[youtube]