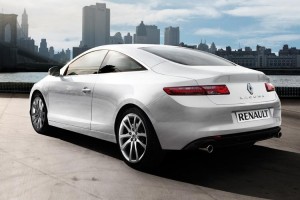 Renault is now offering special prices for the Wave three-door Megane and Laguna Coupe edition. Outwardly, both are characterized for the shiny black finish of the rear view mirror caps, inserts for the grille and tinted windows.
Renault Megane Coupe Wave:  equipped with the CTE 1.4 petrol 130 bhp, the three-door Mégane Wave costs 19,200 euros, 15,500 until the end of September. Among standard features, the manual climate control, ESP, radio with CD and MP3 player and Bluetooth connectivity, power mirrors and leather-covered steering wheel. The alloy wheels are optional parts: cost 150 euros more if 16″, 250 for the 17 ".
Renault Laguna Coupe Wave: Laguna Coupe Wave, instead, is powered by 2.0 dCi 150 bhp and is offered at 23,500 euros until 30 September, after 25,900 (27,700 euros with Proactive suspensions). With this less powerful version, therefore, Renault lowered significantly the laguna Coupe price: the cheaper versions, so far, were the 2.0 dCi 180 bhp and 205 bhp 2.0 Turbo, for sale at 38,420 euros, both with the four-wheel steering "4CONTROL". Among standard features, the new Laguna Coupe Wave comes with  17″ alloy wheels, ESP, dual-zone automatic climate control, bi-xenon headlamps, radio with CD, MP3, Bluetooth and steering-wheel in addition to the 5.8″ navigation system .
We cannot display this gallery
Similar News: