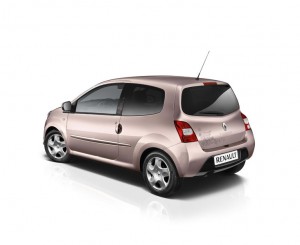 Renault Twingo Miss Sixty is a limited edition devoted to female users, the dominant colors are black and pink, expertly paired with each other and embellished with floral motifs and 15-inch alloy wheels matched to body color. The new version of the French city car is produced with the collaboration of the Italian clothing brand Miss Sixty, the famous fashion brand founded in 1991, aimed at women.
Aesthetic Fashion: Externally, colors can be chosen either in pink "Bohemian Pink" or metallic black "Pearlescent black", while the interior finishes are standard in both colors: the seats are two-tone Alcantara, just black and pink, complemented by dedicated pads. Steering wheel and gearshift lever are leather covered, rose's borders for speedometer and tachometer. Shiny black tint instead for central air vents, the radio support and gearshift lever base.
Euro 5 and 75 hp: two engines available, both of which meet Euro 5 and 75 hp: 1.2 petrol and 1.5 dCi 75 hp. In Italy, the Twingo Miss Sixty goes on sale in January 2011, in France is already available from € 13,000.
We cannot display this gallery