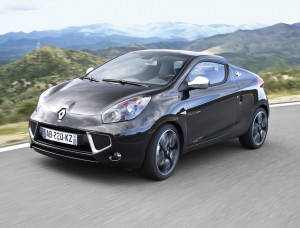 Renault release the official price list of the new Renault Wind Collection, on sale from next September, after last presentation at Geneva Motor Show. This French's roadster-coupe aims to attract attention of the "hair in the wind" fans and inserts this car between the New Twingo and Clio.
Aesthetic car:  modern design of the new Wind does not go unnoticed,  it's compact and dynamic but also sports, especially in the front where are nice air intakes and large headlights with blue plastic inserts. There are shiny black sunroof with a rotary mechanism wich concealing in rear compartment (12 seconds), 16 ", 17″ diamonded alloy wheels and nice fog lights. Renault Wind is only 3.83 meters long. Interiors are nice and shows chrome details, sports steering wheel, aluminum pedals, bucket seats with integrated headrests and instrumentation style motorbike.
All this transmit a pleasurable sensations to the driver, but do not claim benefits of a pure sports car.
Sportive but not as much: The sportive atmosphere is felt immediately when getting on board, this particular driving the convertible version 1.6 16V, the more powerful engine.
The other option for the gasoline engine is 1.2 liter turbo  CeT 100 hp, has less performance but with its low fuel consumption, drivers will save in the city.
For sale in September: The new Renault Wind Collection is already available in September in many European states with the Blizzard version 1.2 TCE 100hp from 18,000 euros.
It will also be sold a limited-numbered of  CeT Collection 1.2 with 100 hp wich comes with standard accessories like 17 " wheels, automatic climate control, leather seats, radio, MP3-CD, chrome side mirrors, black roof finish. Blizzard 1.6 16v 133 hp instead will cost 19,100 euros.
We cannot display this gallery
Similar News: