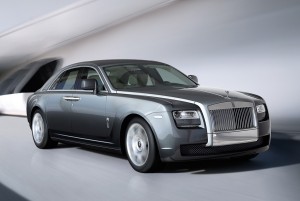 After the release 'Blue' and 'Gold' presented at last Geneva Motor Show, comes the new Rolls Royce Ghost, reworked version for the second time by the swiss Mansory. Surely it is more small than 'sister' Phantom but the Ghost is a very impressive and charming model with a list of details that really make itself unique for customer's eyes.
Finest Restyling: Just look at the panels combinations, the sheet metal bends, the junctions between surfaces and paint to realize that you are facing a kind of art work for true connoisseurs and for people who appreciate the finesse of a handmade car. The Mansory has made changes to the Rolls Royce Ghost treating the body with a new exclusive car paint pearl white, introducing new 22″ chrome alloy wheel, LED lights, vertical slits on the sides and adopting an aesthetic kit that has rear spoiler and side skirts. the driver has in front a  dashboard finely lined with leather and wood. A large eyelid at the center, also covered with a sheet of fine wood, hides the navigator screen.
Sportive Performances: Once driving the Rolls Royce Ghost you realize its sporty nature. The long bi-color bonnet hiding a powerful 6.6 liters V-12 engine with 629 hp, allowing the car to get a top speed of 290 km/h. Shining like a Grand Touring car (from rest to 100 km/h in less than 5 seconds) transfers pleasurable sensations to those who are behind the wheel.
The price for this jewel is 260,000 euros.
We cannot display this gallery
[youtube]