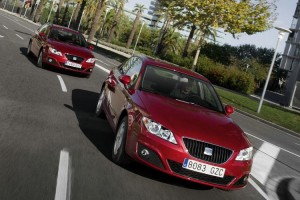 Seat Exeo is expanding its range with the arrival of a new petrol engine, the 1.8 TSI 120 hp, which is to take the place of old 1.6-102 hp, as entry-level model for the Exeo. This longitudinally four-cylinder engine with direct injection and turbocharging, is now at its second evolution, generates 88 kW with a torque of 230 Nm between 1,500 and 3,650 rpm and is available for both the sedan and station wagon.
Improved performance: data reported by Seat say that Seat Exeo 1.8 TSI significantly improved its performance, the sedan can reach a top speed of 202 km/h with a step from 0 to 100 km/h in 10.6 seconds, for the station wagon, however, 196 km/h top speed and 11.1 seconds to reach from rest to 100 km.
We cannot display this gallery
Fuel economy: At the same time fuel reduced consumption and emissions, on average, according to the spanish manufacter, which stop at 7.3 l/100 km on combined cycle and 169 g/km of CO2, for the wagon version goes bit up to 7.4 l/100 and 172 g/km.
Prices: The Seat Exeo 1.8 TSI 120 hp in Europe costs on average 21,000 euro with pack Reference, becoming 23,000 with pack Style. Station Wagon Prices are 22,000 euro for Reference and 24,000 euro for Style.