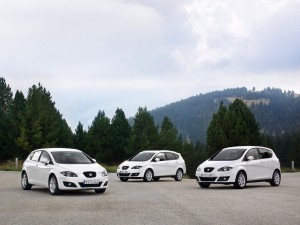 Seat introduces the new 1.2 TSI petrol engine with 105 hp for Seat Leon, Altea and Altea XL, keeping aside the 1.6 102 hp. The Spanish automaker (Volkswagen Group) said that with the new engine has improved performance and reduces fuel consumption and emissions by over 20%. Then has Continued the renovation program of the spanish brand for its engines range, after the introduction of version 1.6 TDI CR engine with 105 hp on the Seat Altea and Leon. The new Seat 4-cylinder 1.2 TSI, available with equipment 'Reference' and 'Style', delivers 105 hp and peak torque of 175 Nm at 1,550 rpm, thanks to a petrol direct injection, a turbo with intercooler integrated into the intake manifold and updated 6-speed manual transmission.
Seat Altea engine generates a top speed of 184 km/h, acceleration 0-100 km/h of 11.3 seconds. Consumption fuel is 5.9 l/100 km instead of 7.3 l/100 km of the previous engine 1.6 102 hp, while emissions reduces of almost 27% as reported by Seat headquarters. Reducing consumption merit is the Start & Stop function that turns off the car in the short-term (for istance when stopping at red light), is the gear change indicator at the instrument panel, and finally is merit of the braking energy recovery system.
Seat Leon improved its performance, with new engine the top speed is 187 km/h, acceleration from 0 to 100 km/h of 10.9 seconds (the previous 1.6 105hp engine was 11.7 seconds from 0 to 100 km/h). Leon also improved the fuel consumption that now stops at 5.7 liters per 100 km in combined cycle and CO2 emissions equal to 132 g/km, values of 20% lower than the previous generation engine.
Prices on the European market for the Leon 1.2 TSI engine with 105 hp and 'Reference' equipment are on average 16,000 euro, 18,000 euro if  'Style' equipped. The Altea 'Reference' is sold at an average price of 17,000 euros (17,500 for the Altea XL), while the Altea 'Style' at 18,000 euros (19,000 Altea XL).
Related Link: Seat Leon Cupra R – your verdict
Similar News: