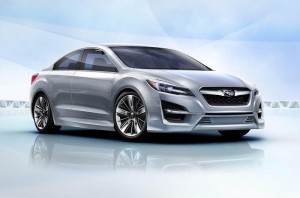 At Los Angeles Motor Show 2010, Subaru has presented the new concept for next generation of Subaru Impreza, which is expected to be the anticipation for the homonymous all-new model coming next year. The new Impreza is a key point for the Subaru because it has always been the best-selling model and will be for the first time, based on jointly developed with Toyota. The Japanese company takes a unique trip, for a model who became famous for the many victories in world rally. We speak of a a conceptual sedan 4,521 mm long,  1821 mm wide and 1430 mm high, 2,639 mm wheelbase with some elements recalling the bigger Legacy and an attractive design, quite unusual for the brand. According to Subaru , the Impreza Concept is born from the study of future needs of its customers.
Engine: The engine is a 2-liter boxer four-cylinder paired to the exclusive Lineartronic CVT gearbox and a four wheel drive system that distributes torque symmetrically between the two axles.
Comfort and aesthetics: The car is featured by modern lines that convey dynamism and elegance, the rear is short enough and the roof join inclined pillars conveying agility and dynamic impression. Within four people can fit comfortably. The manufacturer states that the car will be very comfortable and secure. Interior shows upholstered seats in light-skinned platinum with dark piping profile wrapping the bottom and sides of the seat and very open to the shoulders in the high-end.
We cannot display this gallery
The Subaru has decided to present two videos: one for indicating the direction in which to plan future Impreza, the second born as a product of 3D creativity linked to the car.
[youtube]