At this year's Frankfurt Motor Show there were a number of vehicles creating a buzz amongst those attending. Audi's decision to introduce hybrid technology to a concept version of the classic Quattro picked up a fair few column inches as too did the seemingly tic-tac studded Citroen Cactus which is set for release next year, but arguably the star of the show was the new BMW i3.
After much rumour and speculation in the run-up to the event, the contemporary-styled hatchback made its first public appearance in Frankfurt, trailing the German manufacturer's new 'i' brand. Even German Chancellor Angela Merkel took the opportunity to get up close with the i3 in Frankfurt – though she stopped short of taking out one day car insurance for a test drive – but we couldn't all be there, so here are three pointers on what the i3 is about.
DESIGN
Produced in a striking two-tone colour-way (as shown on Europe Car News earlier this year) the i3 is chunkier than most cars in the BMW stable and boasts, according to BMWs marketing, "consistently sustainable design… making it perfect for the megacity". Or, you know, Sidcup. Lightness, safety and efficiency are the buzzwords BMW have gone for, which aren't particularly sexy, but you can't argue that they haven't nailed it, whilst the tan leather touches and wooden dash hint to BMW's retro past.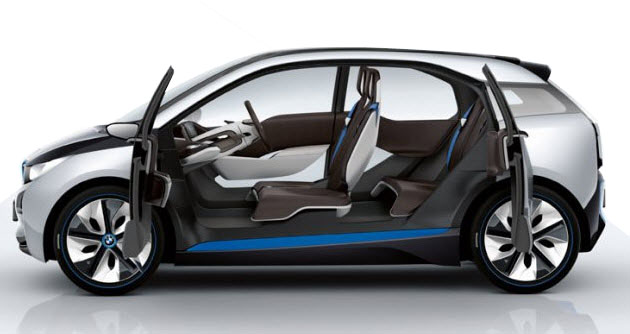 KEY FEATURES
The i3 is driven by a rear-mounted emission-free electric motor which offers a driving range of 80-100 miles. The i3 has a top speed of 93mph and with a lightweight body does 0-62 mph in 7.2 seconds. Weight-saving has been a key aspect in the construction of the i3 and it boasts a carbon fibre chassis and aluminium wheels to achieve this.
PURPOSE & VISION
The German government is enthusiastic for low-emission transport and has a target of getting 1 million electric cars on the road by the end of the decade. As such, it is in the interest of BMW, as a German manufacturer to aim for the electric market with an all-electric vehicle such as this, especially with the potential of tax breaks for helping the Government meets their target.
EXPECTED MARKET
Due to the restricted range of electric cars, the i3 is expected to be a second car for families – albeit a pricey one starting at £25,680 – rather than cater for all driving needs. Though the initial pay-out may be high, the comparatively cheap cost to run, with subsidies from the Government for installing electric power points, and the option to use daily insurance if the i3 is your second car, could make it a sensible long term investment for many.