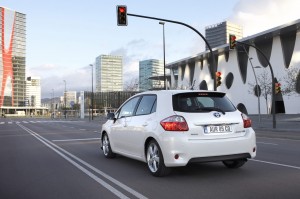 Toyota Auris HSD arrives on the european's market, is the second hybrid car of Nagoya's brand on sale in Europe after the "classic" Prius and the first C-segment car in the world to be equipped with mixed propulsion thermal/electrical. The hybrid model is available in 5-door and in a short time will be the cheaper alternative to the Lexus CT200h. The Auris HSD is a real alternative to the usual petrol and diesel version, due to its powerful 136 hp and low consumes: 26 km/l, CO2 emissions reduced to 89 g/km. The car has been revised in design, acquiring a sportive look, thanks to the new chrome grille with a central large Toyota logo in blue. Other changes include the addition of new LED lights, 17-inch alloy wheels, a more pronounced rear spoiler, and new interior color combined with the blue color of the start button, shift CVT lever and of the Opitron instrumentation screen of the Hybrid Synergy Drive (HSD). The hybrid system consists basically on the same of Toyota Prius, which is a thermal engine 99 hp 1.8-liter 142 Nm combined with a 82 hp electric motor, according to the manufacturer, can cut fuel consumption (only 3.8 liters per 100 km) and very low CO2 emissions , as mentioned above.
We cannot display this gallery
There are two pack equipment: standard Active from 21,000 euros on average (15-inch alloy wheels, LED daytime running lights, push start, automatic climate control and optional alloy wheels 17 " alloy wheel with an extra 500 euro) and Executive from 22,700 euros (Full Smart Entry, back-up camera integrated into the rearview mirror, cruise control and an optional navigation system at extra 1,300 euros). The following prices are expressed as average value for the European market.
[youtube]
Similar News: