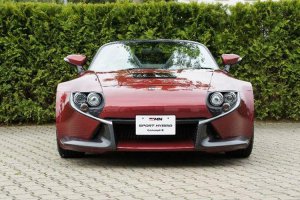 GRMN could anticipate the future design of a roadster
At the 39th edition of the 24 Hours of Nürburgring (25-26 June), Toyota revealed the evolution of  the GRMN Sports Hybrid Concept, which was presented at the 2010 Tokyo Motor Show. On technical level the prototype is an evolution of the Sports Hybrid presented at the Tokyo Motor Show, but on real is a new car, especially thought the style which would preview a future roadster.
Hybrid Sports Concept II theme dedicated
GRMN stands for Gazoo Racing Meister of Nürburgring and represents those who designed the prototype: the sports department of Toyota and Hiromu Naruse, the legendary test driver of Toyota, nicknamed "Meister of Nurnurgring". The "Master" died on June 23 of 2010 driving a Lexus LFA Nürburgring Edition, just 5 minutes from the Green Hell which had become his second home.
Sporty convertible Hybrid Concept with central engine and rear wheel drive
The GRMN Sports Hybrid Concept II is based on the MR2, but with an updated design, is 4.35 meters long, 1.89 wide and 1.20 high, according to data reported by the Japanese carmaker, it weighs about 1,500 kg. The 3.3-liter V6 engine of the Lexus RX400h by 392 hp, was modified to reach  3.5-liter, while total horsepower including the motor pushing the front wheels have fallen to 299 hp. The GRMN Concept II features 19″ alloy wheels with front 255/35 tires and rear 225/40.
[Not a valid template]
[youtube]
Similar News: